What is orthopedic surgery?
Orthopedic surgeries are surgical treatments used to address problems with the joints, skeletal system and associated soft tissues, including muscles, cartilage, tendons, and ligaments.
Our advanced imaging and diagnostic tools help us to provide accurate and effective orthopedic diagnosis. Once a detailed diagnosis has been reached our vets will work with you to decide on the best surgical treatment to meet your pet's needs.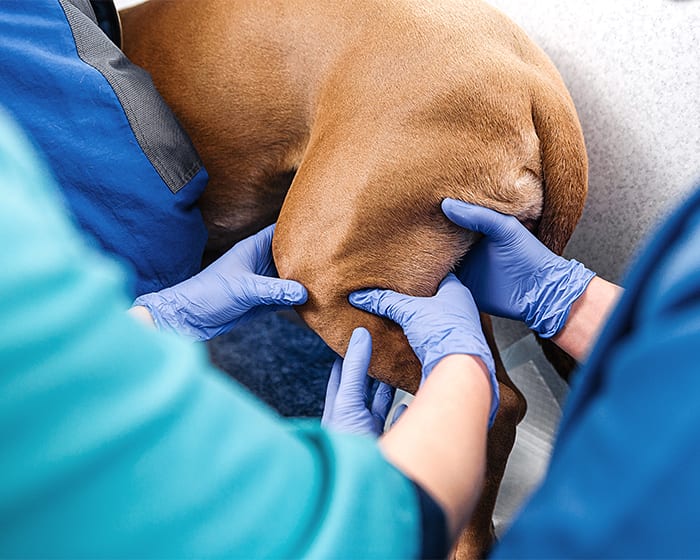 Veterinary Surgery at Shoreland Animal Hospital
If your pet has been diagnosed with an orthopedic condition that requires surgery, our vets are here to help. Dr. Shawn Brown is an AO certified orthopod who has been restoring comfortable mobility, and treating disease in Toledo pets for over a decade.
Have your vet complete the referral form linked below, or contact us directly to learn more about our orthopedic surgery options.
Common Orthopedic Conditions
There is a wide range of orthopedic conditions that affect cats and dogs. The following are among the most common:
Jaw Rewiring
Painful and debilitating jaw fractures are relatively common in our canine companions and are typically the result of facial trauma caused by such things as car accidents, jumping to catch a fast moving hardball, fights with other dogs, severe periodontal disease or abuse.
Jaw repair surgery using wiring and a splint to hold the two sides of the break in alignment while the bone heals is one of the only viable ways to reliably heal your dog's broken jaw. Most dogs undergoing jaw rewiring recover well however the healing process can take anywhere from 3 - 12 weeks.
Plating & Pinning
Thanks to advances in veterinary surgery it is now possible to repair most bone fractures seen in dogs. The primary objective of plating or pinning a broken bone is to stabilize the two sides of the fracture securely while the bone has time to heal.
Plating typically involves screwing a plate to the outside of the broken bone to hold the break still as it heals, whereas pinning involves placing a stainless steel pin in the marrow of the broken bone to hold both sides together securely.
Cruciate Ligament Tears
Surgery is typically the best and most reliable way to treat cruciate injuries in dogs. These surgeries can help to restore your dog's comfortable mobility and prevent arthritis. There are many different types of surgical procedures that can be used to repair cranial cruciate ligament injuries in dogs. Which surgery is best for your dog will depend up factors such as the size of your, the severity of the injury, and your dog's lifestyle.
At Shoreland Animal Hospital in Toledo Dr. Shawn Brown performs TTA and TPLO surgeries to help repair cruciate injuries and restore mobility to dogs from across Northwest Ohio and Southern Michigan.